Taste Great Using A Disposable OR RDA/RBA?
Pound Cake by Glas eLiquids
Pound Cake by Glas eLiquids is named after the centuries old traditional recipe, Pound Cake is marked by its creamy and balanced flavor. This liquid captures that same and subtle taste; with notes of fresh citrus and vanilla on the inhale that are followed by hints of warm cake and lemon zest on the exhale.
ELIQUID REVIEWS
smoke together - GLAS E-JUICE Pound Cake - Magnetoid Rowdy and Megan Tara gifted me some bomb ass vape juice by GLAS in the flavor Pound Cake. Its super delicious. Super grateful. I love my family. The packaging is super official! Go check out their channels and sub!
Zophie Vapes - Poundcake by Glas E-Liquid Review - Vaping my Velocity RDA! I did enjoy Milk by Glas more but this one is delicious also. I think overall more people like Poundcake better but hey everyone has different taste buds.
Maz Pink - ELIQUID REVIEW GLAS VAPOR POUND CAKE
Honest Reviews - Pound Cake Ejuice by Glas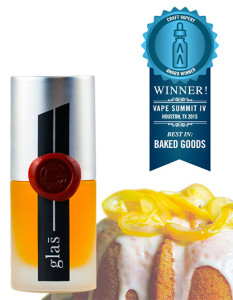 Our shared values at glas are the foundation that supports all that we do. We set out to develop meaningfully innovative products that would enhance the user experience. Our shared values of uncompromising integrity, trust and respect for individuals, commitment, contribution and results through teamwork are the underpinnings of our everyday work that allows us to achieve spectacular results. Each day we earn our customers loyalty and respect by providing the highest level of quality, value, and customer service. We strive to be a socially responsible Company that gives back to our community and the stakeholders that we have the privilege to serve.